Messages that run along the weave of cables and lines, contributing to the wiring of telematic networks, humanity's new nervous system. A current topic that is re-elaborated, taken apart and reassembled through the eyes of an artist who needs to reckon with his desires and his obligations each day. A latent bipolarity between who you are and who you'd like to be, a general condition of those who want to make art in Italy.
Some public works
Click on the images to see more details.
Cables PT.2 (Medley)
Wall painting for Poste Italiane and P.a.i.n.t. 2 project 2019. Post office of Altomonte (CS).
Center Crop
Wall painting in Paganica (AQ) for Re_Acto Fest 2016 and Spi Cgil Nazionale. Paganica on hold since 2009, the suburbs are still looking for a city center.
Big Cables n.12
Wall painting for Tracce Temporanee (Rome) in October 2015. 28 artists in the spaces of a building under renovation.
Rebibbia Cables series (part 1)
Cables series in subway station of Rebibbia – Metro B in Rome for Urban Breath Project and Atac. (March 2015)
Cables n.6
Indoor wall painting in head office of Assist Digital in Rome.
Acquacchio
Collaboration with Krayon for Manu Factory festival 2018, in Comacchio (Italy).
Cables n.19
Wall painting in Matera (Basilicata) in June 2016.
Intersos 24
Collaboration with Krayon for Intersos 24.
Cables n.7
Wall painting for In Wall We Trust 2015 (Airola, BN).
Rebibbia Cables series (part 2)
Succulent Connection
Wall painting for In Street Like a Rainbow 2015 (Castellaneta, TA)
Spaceablandescape
"Spaceablandscape" is a mural on wall of the "Amendola-Guttuso" School, for the second act of "Urban Area – A Scena Aperta" 2016 in Ostia (Rome) curated by Mirko Pierri of "a.DNA project" association. Space cable landescape – space a bland escape.
Cables n.13
Commissioned wall painting for private house in 2016
Cables n.9
Wall painting for Textura in Fest in Melfi (Basilicata) in summer 2015.
Rebibbia Cables series (part 3)
Maker Faire
Cables composition for Maker Faire 2015 in Rome.
Over the last 10 years, Ironmould has been working on a parallel project, which was born out of the Littleworld compositions: Cables . A fully personal view of the world of computers, technology and of the network that originates from his personal connection to these elements.
A process that is both meditative and freeing, which aims at exorcising the technological world that is represented, through the tangles of cables. A mantra to unplug the computer world and yet, at the same time, a very personal and recognizable way of representing it.
A personal representation that gives way to broader reflection. Nowadays, we're all suspended in the thick weave of cables, tied and connected 24/7, hyperconnected, overconnected, squeezed into a more and more claustrophobic living space, that is updated every microsecond.
The claustrophobic compositions of cables visually narrate an interruption, a tear in everyday life, the exact moment in which reality cleared the way for digital. A warning, that shows the violence with which we were deprived of our humanity and that moment in which, each day, our gaze is torn away from reality to focus on virtual dimensions. An invitation to not lose contact with the places we inhabit and the people we interface with, to connect with the real world.
Pumphead Megatoy
Custom megatoy (170 cm) for Ginnika Expo 2015. In collaboration with Holypopstore and Nike.
Wired Heart
A work for CNS, Centro Nazionale del Sangue, in Policlinico subway station, Rome. (Art prints with silicone and ink applications, 200cm x 200cm).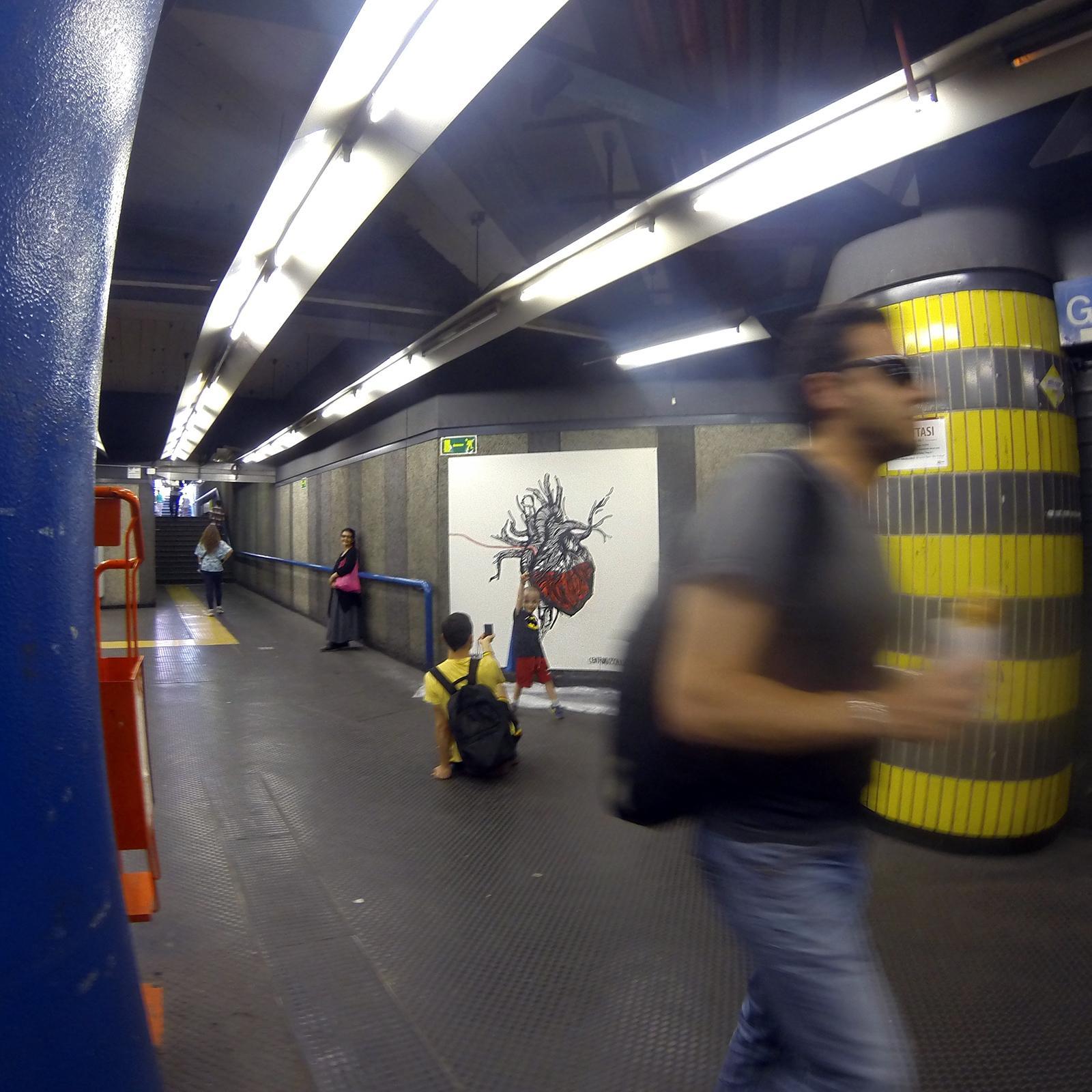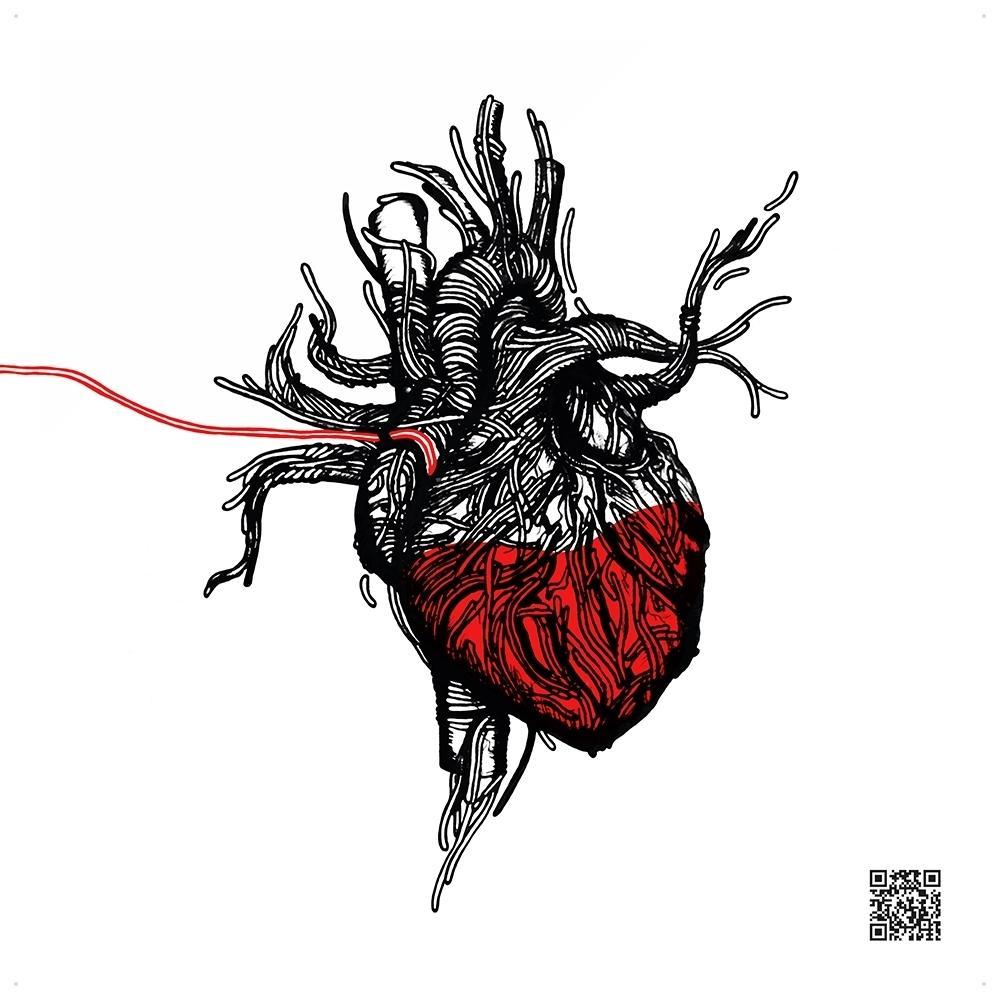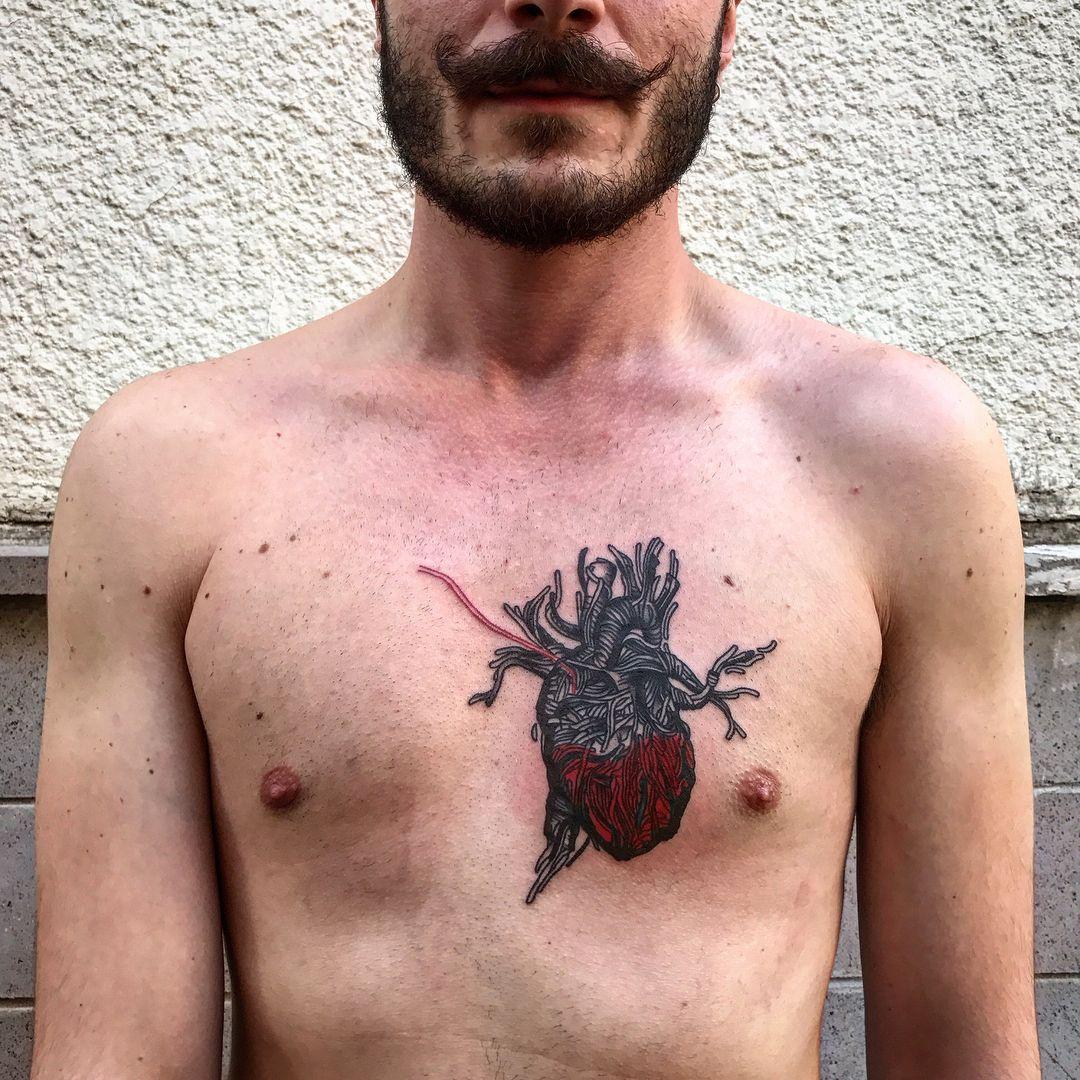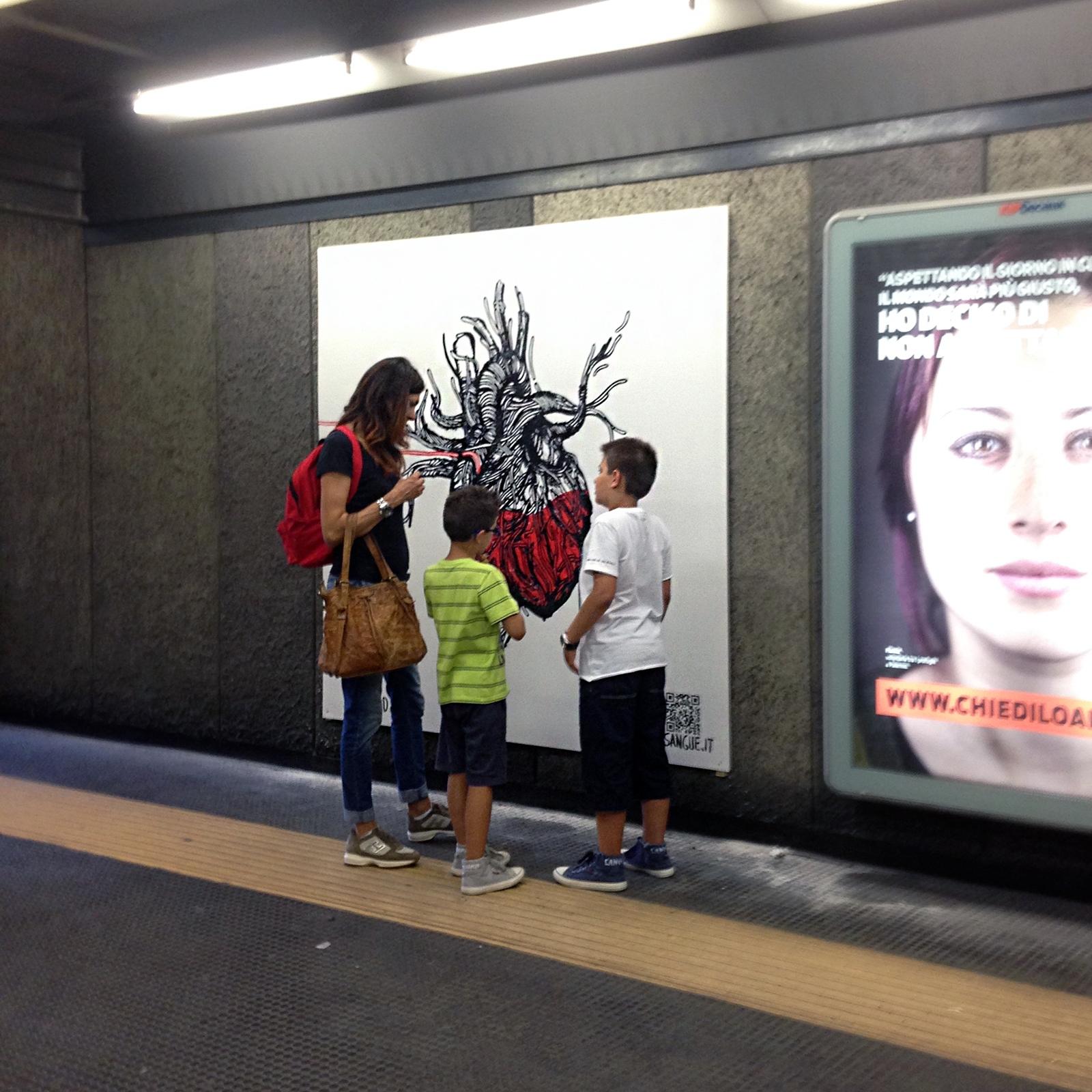 Other public works
Cables interlacing. Two bells glass waste painted for GAU project 2017 in Centocelle district, Rome.
Thank you for visiting the section dedicated to the Cables series!